Why You Want To Follow This Baking Blog
A fresh take on baking blogs, and one seriously fun bakery quality cookie mix.

Founder & Executive Pastry Chef
For 25 years, Joanne has served as the Founder and Executive Pastry Chef at Hannahmax Baking. Known for her best in class reputation, Joanne and her baking company have crafted gourmet desserts for fine dining establishments, coffee cafes, hotels, & grocery companies across North America. In 2022, she launched the Cookie Chips® Baking Mix, a cookie mix that's shaking up home baking with its bakery quality results. In From The Pastry Kitchen, she shares her industry earned expertise with the home baking community.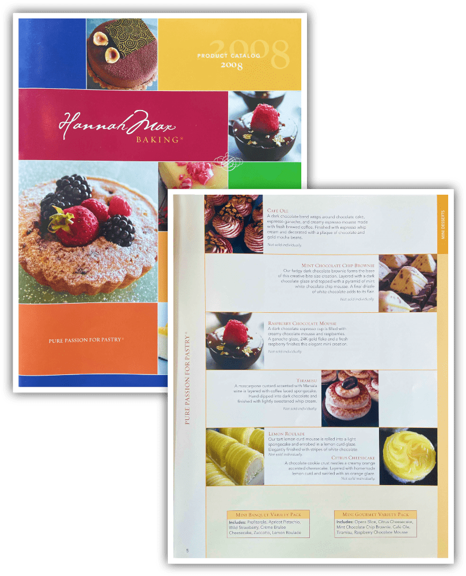 Hannahmax Baking's 2008 dessert catalogue
I have been baking professionally for over 25 years, starting back in 1993.
During this time, I have created hundreds of amazing dessert recipes for fine dining establishments, coffee cafes, hotels, and grocery companies across North America. I often create these dessert recipes at the request of the executive chefs for the restaurants and hotels, as well as for the dessert buyers from food companies like Trader Joes, Target, Vons, and Safeway. There are also many dessert recipes I create around annual dessert or flavor trends. I've also created many recipes out of my own personal and creative interests.
25 years ago there was no Instagram, no Facebook (crazy I know), and baking blogs were not a thing. There really wasn't a solid visual platform to share the beautiful desserts I, and my company created, except in my bakery's dessert catalog (see above). Even if there were platforms for sharing, my time devoted to building a baking business was all consuming. With my elbows deep in cake batter, I wouldn't have had the wherewithal to stop, photograph, and write about everything I did.
In the late 1990's, several key chefs and bakers began to write and photograph their recipes, sharing them on the internet. This was the beginning of food blogging. The now defunct Chowhound, one of the original food blogs, had an impressive 25 year run. In 2006 - 2007, baking blogs that I love like Smitten Kitchen, Food 52, & Serious Eats began to come around. There are so many more that have flourished since. Saveur started an annual food blog awards back in 2010. I enjoy seeing the winners every year and learning about bloggers I'm unfamiliar with.
What's amazing about the blogging world is anyone can start one. There are many creative chefs and bakers outside the professional world that now have a voice. You no longer need to be a Food Network star chef or a graduate of a fancy culinary school to showcase your creativity. It's an amazing time for any foodie. Blogger and blog consumer.
I would have loved to years ago in my professional baking life. Photographing the behind the scenes workings of my wholesale bakeries would have been super fun. I find that showcasing the delicious desserts I create and the process of making them is super cool.
So, why am I starting a blog? And why now?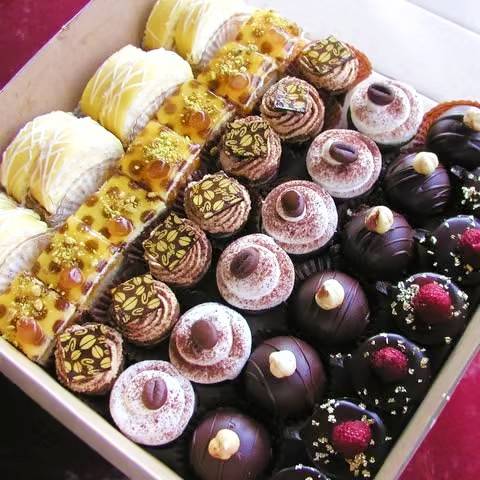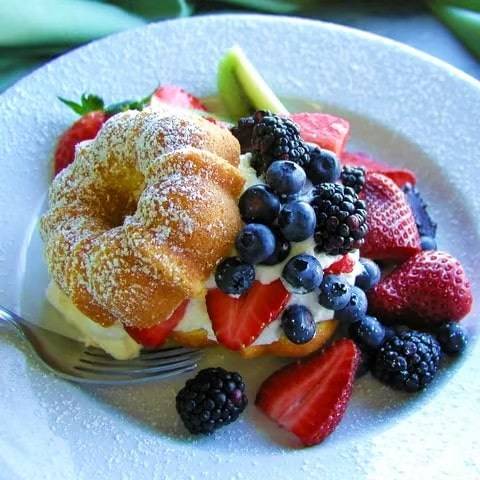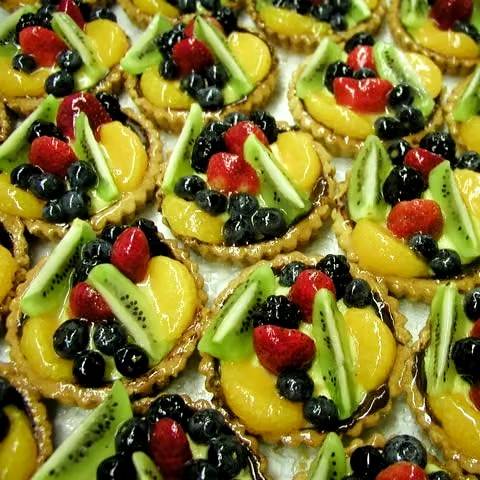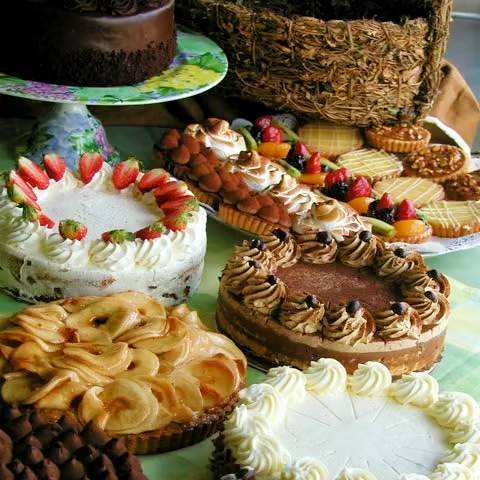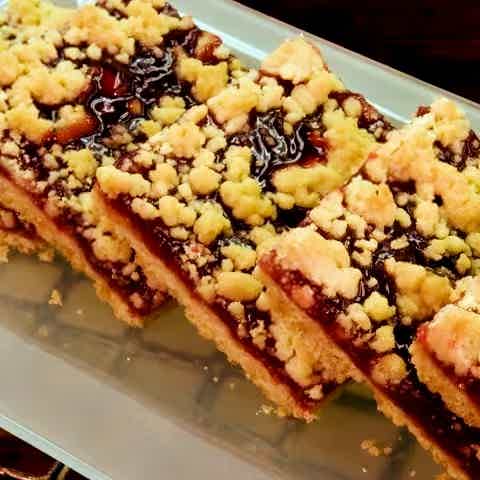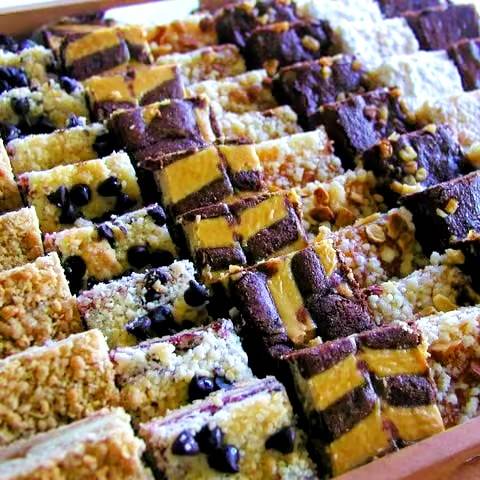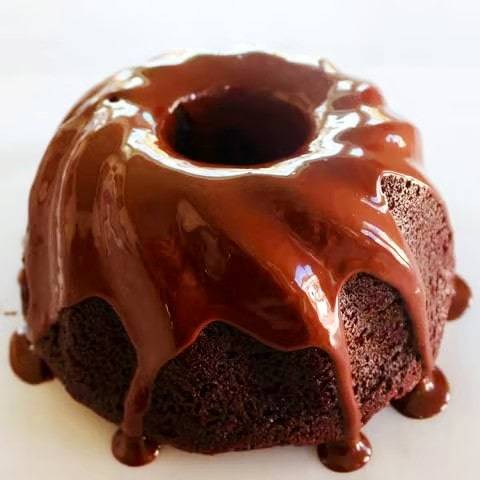 Things are coming together in a beautiful way, and I'm excited to finally have the opportunity to digitize my passion. It's 2022, and this year I'm releasing the Cookie Chips® Baking mix. WOW, what a mix. I created this cookie mix because mainstream baking mixes are boring. Baking is so much fun, and home bakers need a baking mix that reflects that. Cookie Chips® is fun, easy, and bakery quality.
"Bakery quality" means this cookie mix was pastry chef crafted (by me) to create a fun and easy baking experience that produces artisan, crispy crunchy cookies in 15 minutes. Easy recipes and bakery quality don't have to be opposites. And these really are the best cookie recipes on the planet. Complemented by my easy dessert recipes on this blog, you'll discover snacks, desserts, and a wellspring of fun things to bake. From The Pastry Kitchen is my sandbox for creative expression. These unique desserts are inspired by my easy recipe, bakery quality Cookie Chips® Baking Mix.
Becoming Pastry Crafted. Behind the Cookie Chips® Baking Mix.
When I first decided to bring back Cookie Chips® as a cookie mix, I never thought that this mix could do more than crunchy snacking cookies. It didn't take long for the ideas to begin flowing. Cheesecake crusts, Key lime pie crust, fruit crumbles, soft and chewy cookies, Muddy Buddies, crunchy cookie bark, charcuterie boards, sandwich cookies, ice cream cakes, and so much more. The ideas are never ending and I'm grateful for the medium of the baking blog, and to you, whom this project is ultimately dedicated towards.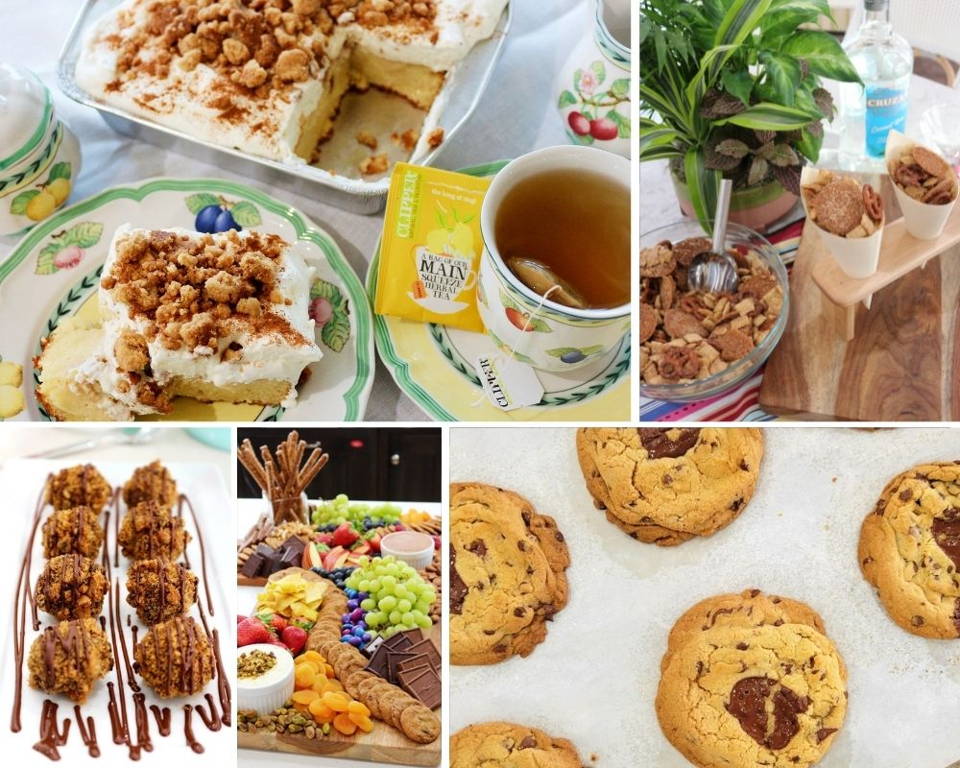 Some of the many easy dessert recipes and ideas possible with Cookie Chips®. Everything can be found on this blog, From The Pastry Kitchen.
I encourage you to purchase my Baker's Bundle. It's my signature baking bundle that features all four of my bakery quality cookie mixes. Chocolate Chip 🍪, Cinnamon Sugar 🔥, Unicorn Rainbow Sprinkles 🦄, and Sea Salted Peanut Butter 🥜. It's time for the home baking community to experience a baking mix that's fun, authentic, and high quality, from bag to crunch.
I hope you will enjoy the easy dessert and cookie recipes that I create here. If you have ideas you want to send my way or you have created your own desserts with the Cookie Chips® Baking Mix, I want to hear from you. Send my team a message at whatup@cookiechips.com and I will be in touch.
Crispy crunchy cookies in 15 minutes.
Make bakery quality, thin & crispy cookies in 15 minutes. These pastry chef crafted, easy bake Cookie Chips® are so delicious.
Like everything that I bake, this mix uses artisan, non GMO, simple ingredients, and no artificial junk.
Let's get baking!
Joanne Adirim, Founder & Executive Pastry Chef