Soft and Chewy Snickerdoodle Recipe
Simple easy baking recipe for those so yummy snickerdoodle cookies.

Founder & Executive Pastry Chef
For 25 years, Joanne has served as the Founder and Executive Pastry Chef at Hannahmax Baking. Known for her best in class reputation, Joanne and her baking company have crafted gourmet desserts for fine dining establishments, coffee cafes, hotels, & grocery companies across North America. In 2022, she launched the Cookie Chips® Baking Mix, a cookie mix that's shaking up home baking with its bakery quality results. In From The Pastry Kitchen, she shares her industry earned expertise with the home baking community.
When it comes to cinnamon sugar cookies, There's nothing better than our buttery, thin and crunchy Cookie Chips®.
Not even cinnamon toast could compare. And, I love a crunchy cinnamon toast on egg challah bread.
While I know I'm right about my crunchy cinnamon sugar Cookie Chips®, my pastry chef mind is always actively tinkering. I was possessed to learn if my cinnamon sugar baking mix could do more than make crunchy cookies. I wanted chewy cookies to rival the thin and crispy version, using the same baking mix. It took a few tries, but I figured out the secret to making soft and

chewy snickerdoodle cookies

with just a few tweaks of this mix. It's delicious!!
Before we begin, I feel like we should ask the question, what is a
snickerdoodle?
And besides being a funny word, where did these chewy cookies come from? I set out to find the origin. As a baker, I am certainly familiar with this cookie and how to make them, but where they came from needed a bit of
diving into Wikipedia.
🙌🙌
While not definitive, Wikipedia offered me some insight into the name's roots. It seems to be of German descent. It could also have been a nonsensical word developed in New England where whimsical names are traditional for cookies. There are a few other thoughts about this name, but nothing definitive. I did learn however, that this cookie is common to
the Mennonites and Amish communities.
The cookie definitely has an old world vibe to it.
Taking a deeper dive into this topic,
I found a Corey Williams Article about the "Sweet History of the Snickerdoodle."
While this article doesn't give any more insight about the name's origin, it does detail the beginning of the snickerdoodle trend here in the U.S. which started in the late 19th century. The story goes that there was a N.Y. cooking teacher and newspaper columnist that posted her recipe for a sugar cookie bar sprinkled with cinnamon sugar. The recipe became the darling of the media at the time.
It wasn't until the 1930's that this popular snickerdoodle style bar was turned into a round cookie. From here it's popularity exploded. Today, there are many companies in the marketplace that create snickerdoodle style donuts, drinks, cookies, and snacks. So I figured that it was my turn.
The
Cinnamon Sugar Cookie Chips® mix
is conveniently easy in that it lets you make cookies anyway you enjoy them. Be them crunchy one day and chewy the next. Either way, these
easy recipes
deliver the authentic bakery quality results.
The Best Snickerdoodle Cookie Recipe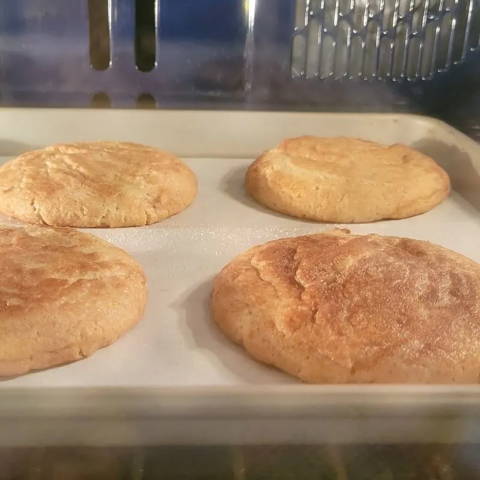 Toasty snickerdoodle cookies in the oven.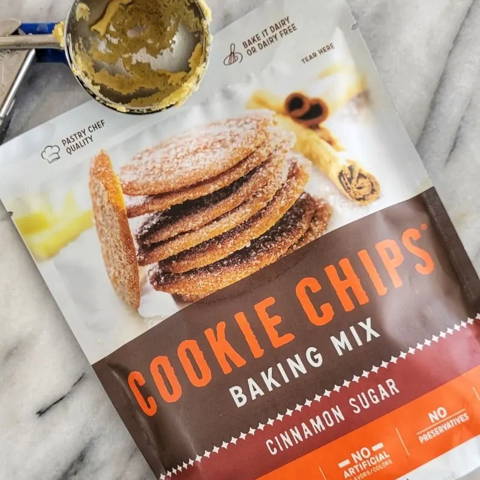 Turning thin and crunchy into soft and chewy.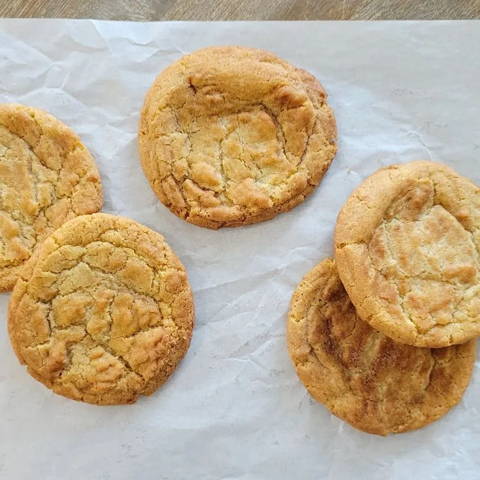 Bag your chewy snickerdoodle cookies to keep fresh.
• Cookie Chips® Cinnamon Sugar - 1 bag.
• All purpose flour, unbleached - ⅓ cup.

• Brown sugar - 1 tbsp.
• Granulated sugar - 1 ½ tsp.
• Baking powder - ¾ tsp.
• Butter, unsalted - 5 oz.
• Eggs, large, - 1 egg.

• Granulated sugar - ½ cup.
• Ground cinnamon - 1 tbsp.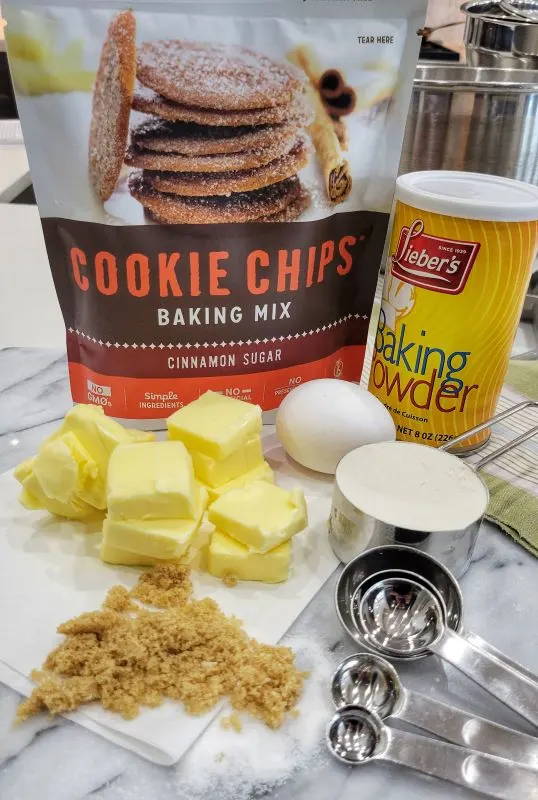 1. Preheat oven to 350 F. (325 F for convection.) Line sheet pan with parchment paper.
2. Place Cookie Chips® Cinnamon Sugar Baking Mix in a bowl or mixer with paddle attachment. Add flour, brown sugar, granulated sugar, & baking powder. Blend together.
3. Add butter to dry ingredients and blend together on low with a mixer until butter fully coats the dry ingredients. Mix will look crumbly. (You can also do this by hand with a spatula).
4. Add egg and blend until a soft dough forms.
5. Scoop dough onto a sheet pan spacing about ½" apart.
6. In a separate bowl, blend cinnamon and sugar.
7. Roll each dough ball into cinnamon sugar and place back on the sheet pan.
8. Bake for approx. 12 to 13 minutes or until edges are golden brown and the center is still light. Cool and eat.
Pastry Chef Tips and Tricks
1. Scoop cookie dough into balls and refrigerate or freeze overnight wrapped in plastic wrap. This will help all the dry ingredients absorb the moisture and enhance the overall flavor of the cookie. The cookie will also be a bit thicker than if you bake the dough fresh.
2. Brown the butter. Be careful not to burn it. This will give you a whole new flavor dimension, a deliciously nutty flavor to your cookies.
Crispy crunchy cookies in 15 minutes.
Make bakery quality, thin & crispy cookies in 15 minutes. These pastry chef crafted, easy bake Cookie Chips® are so delicious.
Like everything that I bake, this mix uses artisan, non GMO, simple ingredients, and no artificial junk.
Let's get baking!
Joanne Adirim, Founder & Executive Pastry Chef