From Los Angeles California, to Parkland Florida.

Founder & Executive Pastry Chef
For 25 years, Joanne has served as the Founder and Executive Pastry Chef at Hannahmax Baking. Known for her best in class reputation, Joanne and her baking company have crafted gourmet desserts for fine dining establishments, coffee cafes, hotels, & grocery companies across North America. In 2022, she launched the Cookie Chips® Baking Mix, a cookie mix that's shaking up home baking with its bakery quality results. In From The Pastry Kitchen, she shares her industry earned expertise with the home baking community.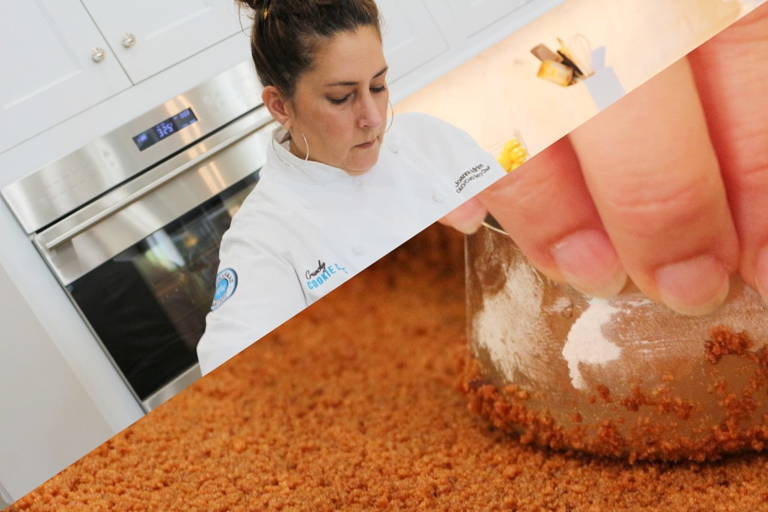 In 2020, I closed my baking business in California. Then the pandemic hit.
Living in Los Angeles just wasn't cool or fun anymore. The filth and homelessness surrounding my baking company, located in the industrial part of L.A., had spread to my home neighborhood. I didn't feel safe. I didn't feel good about what my family was being exposed to, especially my youngest.
So, my family up and left, and moved to South Florida. The air is clean, the streets are clean, and I feel safe. I even leave my front door unlocked sometimes. (Don't tell anyone.)
I owned a wholesale baking company in LA called Hannahmax Baking. I started that business in 1993, at the age of 28. We made high end desserts for restaurants, cafes, hotels, and gourmet groceries (e.g. Trader Joe's). It was hard work, but incredibly rewarding. In 2013, I launched the first innovative thin snacking cookie called Cookie Chips® which sold nationally. In 2016, I exited the business. Another story for another time. I don't want to be classified as retired, so I'm starting again. I thought about all those people who are now spending more time at home baking. As a pastry chef, I want to offer bakery quality baking mixes that are easy to make and use simple ingredients. That is why I decided to launch the Cookie Chips® Baking Mix.
My time with this project is significantly less than what I am used to doing. This is actually a good thing. I've learned about work life balance and I'm enjoying it.
In reality, I work part time on this new venture. I wish I could tell you that I was banking huge amounts of money, but I'm just getting started. Literally just launching.
When I first started out in life with baking and building a business, making money was all about physical comforts like buying a beautiful home, taking fun vacations, driving a special car, and all the typical physical things society tells us we need. This time feels different. I'm building this business in order to give more back to this world. I would love to start a family foundation that provides for all kinds of needs in my community and my world around.
That's it. It's an exciting time for me. I love my new business and I'm grateful that you're a part of it. Whether a newbie or experienced, if you're an at home baker, pick up a bag of my mix, join our community, and let's get baking!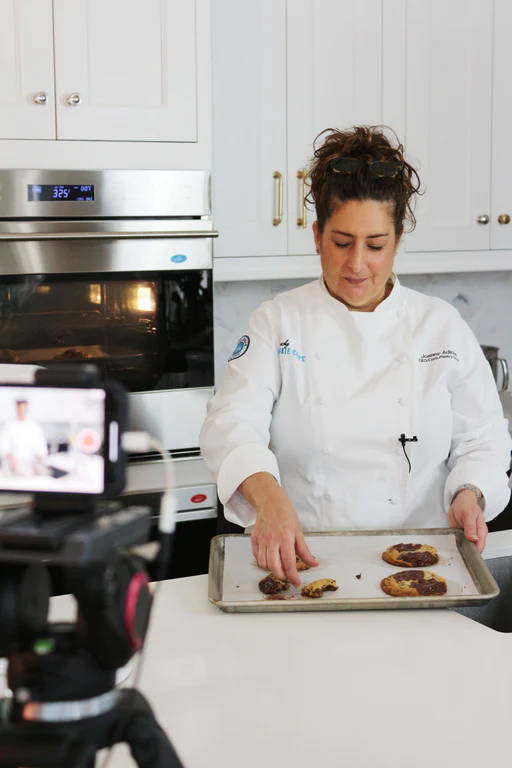 Crispy crunchy cookies in 15 minutes.
Make bakery quality, thin & crispy cookies in 15 minutes. These pastry chef crafted, easy bake Cookie Chips® are so delicious.
Like everything that I bake, this mix uses artisan, non GMO, simple ingredients, and no artificial junk.
Let's get baking!
Joanne Adirim, Founder & Executive Pastry Chef